As a content creator in the tech sphere, I understand the importance of tech logo reveal templates to leave a lasting impression with visual content. With Premiere Pro templates, you can effortlessly enhance your brand's identity. Let's explore the 10 best tech logo reveal templates that will captivate your audience and elevate your brand presence.
Table of Contents

Circle Tech Logo Reveal (Logo Reveal Templates):
This template's sleek circular motion and tech-inspired elements give your logo a futuristic touch, making it ideal for startups and tech-oriented projects.
Digital Logo Reveal | MOGRT:
With a blend of glitch effects and modern typography, this template adds a digital flair to your logo, perfect for showcasing your tech-savvy approach.
Before Using Free Alamy Image Downloader You Must Read This!

Disney Fonts for Cricut | Where to Find Free Disney Fonts?
Modern Logo Reveal V.2:
Featuring clean lines and smooth animations, this template exudes sophistication, making it a great fit for tech companies aiming for a contemporary look.
Technology Futuristic Sphere Logo Reveals:
Engage your audience with a high-tech sphere animation that encapsulates your logo, symbolizing innovation and advancement.
Ai Futuristic Logo Reveal:
Embrace the future with an AI-inspired logo animation that combines fluid motions and technological elements, ideal for AI-driven projects.
Chroma Aberration Logo Reveal:
Harness the power of chroma aberration effects to transform your logo into a captivating visual spectacle that resonates with tech enthusiasts.
Laptop Logo Reveal (Logo Reveal Templates):
For IT businesses and laptop-focused ventures, this template mimics the opening of a laptop screen to unveil your logo, making a memorable impact.
Fast Glitch / Digital Noise Logo:
Add an edgy touch to your logo reveal with glitch effects and digital noise, perfectly suited for brands that embrace cutting-edge technologies.
Digital Wave Logo Reveal:
Ride the digital wave with a mesmerizing animation that forms your logo through dynamic waves, symbolizing the interconnected world of technology.
Hud Unlocking Logo Reveal:
Bring the concept of unlocking potential to life with a HUD-inspired animation that showcases your logo emerging from a futuristic interface.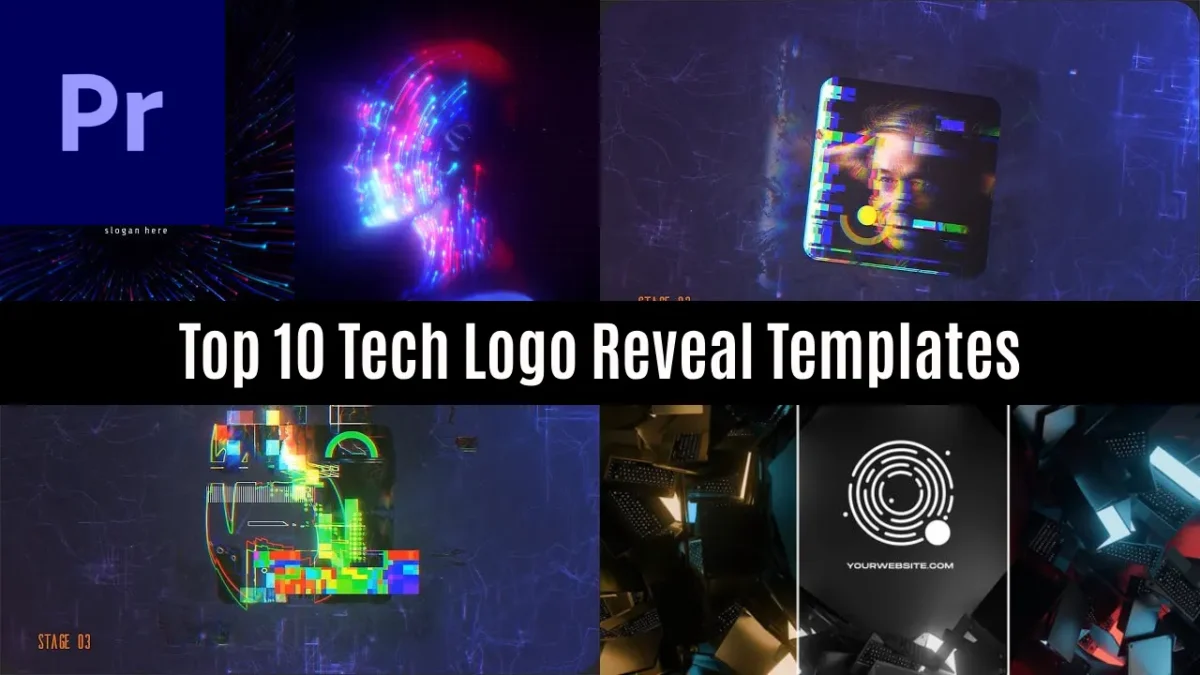 Conclusion:
Premiere Pro's tech logo reveal templates offer a plethora of creative opportunities to showcase your brand's identity in the digital realm. From futuristic aesthetics to glitch-inspired effects, each template adds a unique touch to your logo animation. As a content creator, I'm excited to explore these templates to create captivating logo animations that resonate with tech-savvy audiences, leaving a lasting impression of innovation and sophistication.