Table of Contents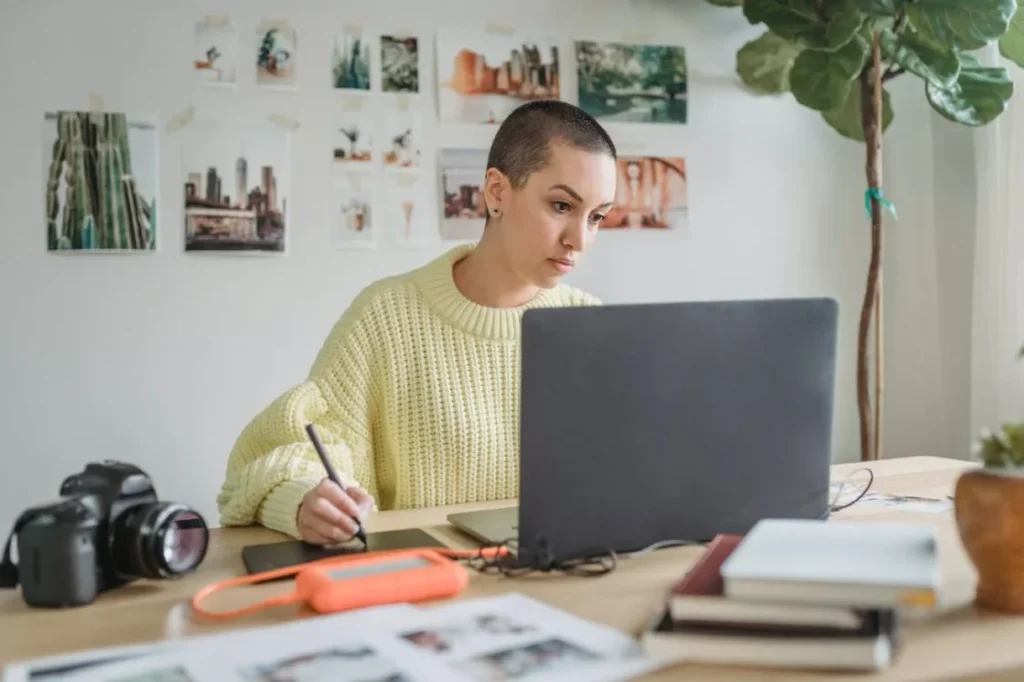 What is graphic design?
A Graphic Designer communicates ideas and information through visuals concepts and graphic design. Primarily using design software, they create compelling visuals that inspire and captivate audiences. Graphic Designers strategically combine design elements to develop aesthetically appealing layouts, advertisements, reports, logos, packaging, and more.
There are numerous scholars who want to obtain a professional career and graphic designing is also one of the finest professional courses. If you enjoy making designs and looking for a well paid safe career so graphic design would be a type of field where you can get the hoped-for career and can also follow your passion but to begin the journey, here the question comes," What exactly is graphic design? What does a graphic designer do?" So here We will tell you what is a graphic design and what a graphic designer does.
What Is the Role of a Graphic Designer?
Graphic Designers create visual concepts to communicate information. They create everything from posters and billboards to packaging, logos and marketing materials. Graphic Designers use elements such as shapes, colors, typography, images and more to convey ideas to an audience. Graphic Designers can work in-house, creating designs specifically for one brand, or at an agency or as a freelancer, where they work with a variety of clients.
The role of Graphic Designers varies depending on where they work. Some tasks that designers may work on include selecting photos and typefaces, developing layouts, and designing logos. Graphic Designers may specialize in a particular area, such as motion graphics or print media.
Graphic Designers often need to communicate with clients and consumers to develop designs that portray an intended message. They also collaborate with other graphic designers, marketers, business analysts, writers, and programmers to create successful products, campaigns, or websites.
Graphic Designers have a range of responsibilities depending on their specialty and workplace. Typically, they will meet with clients or art directors to determine design needs. Using design software, they will combine images, illustrations, and text to bring an idea to life. They may also need to present their ideas and incorporate feedback from colleagues or clients into subsequent drafts.
A typical Graphic Designer job description may include some of these responsibilities:
Study design briefs and determine requirements
Advise clients on strategies to engage target audiences
Identify the best ways to illustrate and communicate clients' vision while complying with design best practices
Create designs using illustration, photo editing and layout software
Select colors, images, typography and layout for communication materials, including websites, logos, signs, books, magazine covers, annual reports, advertisements, and social media posts
Produce drafts for client review and make revisions based on feedback received
Collaborate with other team members, such as marketing, sales, and business operations, throughout the various phases of a project
Review designs for errors before they are printed or published
Keep up-to-date with the latest design trends, tools, and technologies

Infographic by
Toptal
Career Opportunity in Graphic Designing
Graphic Designing Course gives a great scope in this field. After finishing this course you have plenty of career options. Graphic Design has a massive scope and career possibilities. Graphic Designing Courses are the most demanding courses. Here are the top graphic designer scope:-
Publication Designer
Brand Identity Designer
Website Designer
UI / UX Designer
Product Designer
Game Designer
Advertising Designer
Packaging Designer
Photoshop Artist
Illustration Artist
Pattern Designer
FAQs:
What are some of the responsibilities of a graphic designer?
Some typical responsibilities of a graphic designer may include studying design briefs and determining requirements, advising clients on strategies to engage target audiences, selecting colors, typography, images, and layout for communication materials, producing drafts for client review, collaborating with team members throughout the various phases of a project, reviewing designs for errors before they are printed or published, and keeping up-to-date with the latest design trends, tools, and technologies.
Where can graphic designers work?
Graphic designers can work in various settings, including advertising agencies, design studios, corporations, non-profit organizations, and government agencies. They can also work as freelancers and offer their services to a variety of clients.
What skills are required to become a successful graphic designer?
To become a successful graphic designer, one should have skills like creativity, communication, problem-solving, time management, attention to detail, and proficiency in design software like Adobe Photoshop, Illustrator, and InDesign. Knowledge of typography, color theory, and design principles is also essential for a successful career in graphic design.