Adobe Express with Firefly, brings a new era of creativity and collaboration to creators, brands, students, and educators. With seamless integration, a comprehensive all-in-one editor, AI-powered features, and real-time collaboration capabilities, Adobe Express empowers users to design and share standout content across various platforms.
Table of Contents
| Product | Cost |
| --- | --- |
| Adobe Express | Free & $9.99 |
| Canva | Free & $12 |
Expanded Integration and Collaboration Features:
Express seamlessly integrates with Creative Cloud, Experience Cloud, and Acrobat applications. Creative Cloud members can import, edit, and sync content across applications, collaborate in real-time, and maintain brand consistency. Enterprise users benefit from integration with Experience Manager, democratizing creativity across organizations. Small and medium businesses can plan, schedule, preview, and publish content easily, while students and educators can collaborate on shared projects and create visually appealing materials.

Partnership with Google Bard:
Adobe partners with Google to bring Firefly and Express to Bard, Google's conversational AI service. Firefly becomes Bard's premier generative AI partner, enabling users to describe their vision to Bard and create Firefly-generated images directly within Bard. Express then allows users to enhance and modify these images, making it effortless to create eye-catching social posts, posters, flyers, and more.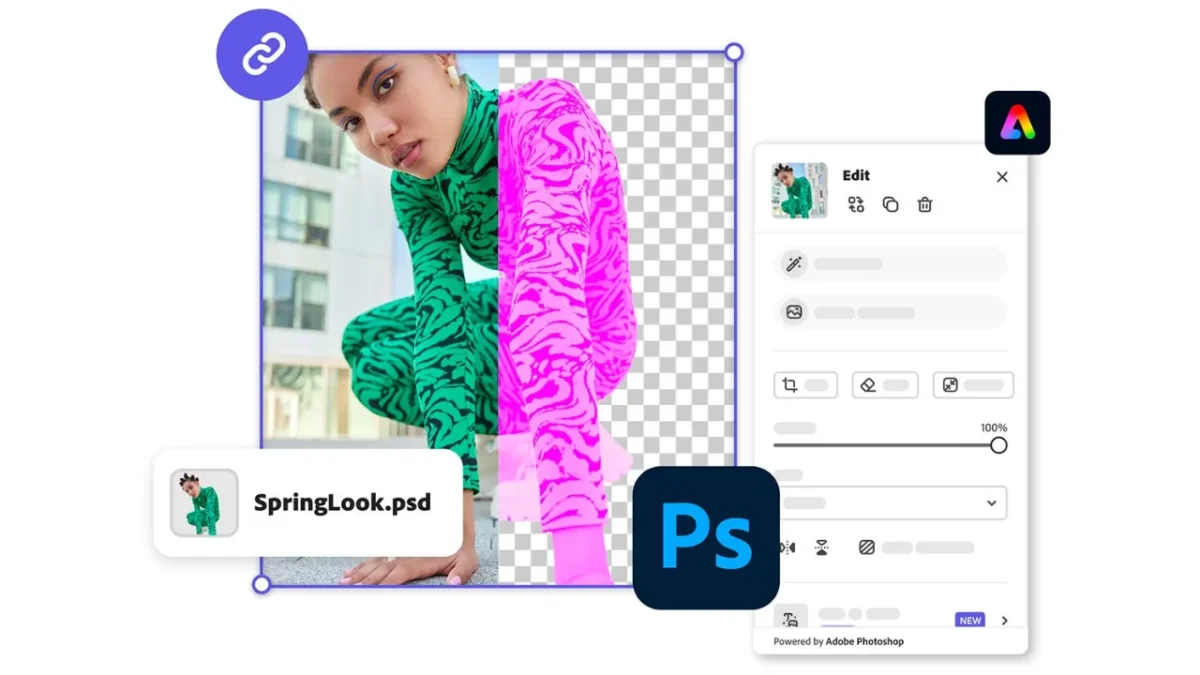 Key Innovations in Adobe Express with Firefly:
All-in-one editor:
Users can create high-impact design elements, engaging videos, stunning PDFs, animations, and standout content for various channels and platforms.
Firefly integration:
Generate custom images and text effects using the Text to Image and Text Effects features, transforming descriptions into visual assets.
Expanded content library:
Access nearly 200 million assets, including video and design templates, royalty-free Adobe Stock images, fonts, icons, backgrounds, and shapes.

PDF support:
Import, edit, and enhance documents within the all-in-one editor, making it easier to create visually stunning PDFs.
AI-powered features:
Get personalized template recommendations, find the perfect addition to content, and utilize quick actions such as background removal, character animation, GIF conversion, and PDF editing.
Real-time collaboration:
Collaborate seamlessly, access and edit creative assets from Photoshop and Illustrator within Express, and maintain synced linked files.
Apple's Largest 15-inch MacBook Air in $1,299! | Apple WWDC

Adobe Showing the Power of Firefly AI in Photoshop: Introducing Generative Fill and More

Building Trust in AI: Artefact's Principles for Responsible Ai Design
Enhancing Content with Animations:
Express introduces animations like Fade In, Pop, Flicker, and Bungee, bringing text, photos, videos, and assets to life. Animate from Audio, powered by Adobe Character Animator, enables characters to sync lips and gestures with recorded dialogue.
Availability:
Adobe Express is now available for desktop, with mobile for iOS and android as well. Existing Adobe Creative Cloud members have access to the Adobe Express premium plan, enhancing their content creation experience.