When it comes to video editing software, two heavyweights in the industry stand out: DaVinci Resolve Vs Premiere Pro. As a filmmaker and video editor, I've had the opportunity to extensively use both platforms, and I'd like to share my insights into the strengths and weaknesses of each. Let's dive into the DaVinci Resolve Vs Premiere Pro debate.
Table of Contents

DaVinci Resolve: Powerhouse of Color Grading
Color Grading Dominance:
DaVinci Resolve has earned its reputation as an industry leader in color grading. Its advanced color correction tools are second to none, making it the preferred choice for professionals working on color-intensive projects like feature films and commercials. The Color Page's grading panels and the ability to handle high dynamic range (HDR) content set Resolve apart.
Fusion Integration:
One unique feature that puts Resolve ahead is its seamless integration of Fusion, a powerful visual effects (VFX) and motion graphics software. This integration allows editors to work on VFX, animations, and compositing within the same project, eliminating the need to switch between applications.
How to Make Social Media Graphics with Adobe Express For Free?

How Adobe GenStudio for Enterprise Enhances Content Supply Chain with Generative AI!

Adobe Photoshop Vs Adobe Illustrator: A Side-by-Side Comparison
Impressive Free Version:
DaVinci Resolve offers a free version that includes most of its professional features. For independent filmmakers or those on a tight budget, this is a game-changer. You get access to advanced editing, color grading, and audio post-production tools without spending a dime.
Adobe Premiere Pro: The Industry Standard for Video Editing
Familiar Interface:
Adobe Premiere Pro is the industry standard for a reason. Its user-friendly interface is highly intuitive, making it accessible for both beginners and experienced editors. If you're transitioning from other Adobe software like Photoshop or After Effects, the learning curve is minimal.
Seamless Workflow:
Premiere Pro's integration with other Adobe Creative Cloud apps, such as After Effects and Audition, is a significant advantage. This ecosystem allows for smooth collaboration between different departments, such as video editing, motion graphics, and audio post-production.
Stability:
Adobe's regular updates and bug fixes ensure a stable editing experience. This stability is crucial for projects with tight deadlines, as unexpected crashes can lead to lost work and costly delays.

DaVinci Resolve Vs Premiere Pro: Which Is Right for You?
For Color-Intensive Projects:
If your work primarily involves color grading, DaVinci Resolve is the clear winner. Its dedicated Color Page and advanced grading tools are unparalleled.
For VFX and Animation:
DaVinci Resolve's integration with Fusion makes it a strong choice for projects requiring extensive VFX, animations, or compositing. In adobe, you have to switch between premiere pro and after effects for production of motion graphics and VFX projects.
On a Budget:
If you're just starting or working on personal projects, DaVinci Resolve's free version provides incredible value. It offers professional-grade features without the cost.
For Beginners:
Adobe Premiere Pro's user-friendly interface makes it an excellent choice for those new to video editing. Its integration with other Adobe software can also simplify your workflow.
For Collaborative Projects:
If you're working in a team or need to collaborate with different departments, Premiere Pro's seamless integration with the Adobe Creative Cloud ecosystem is a significant advantage.
Ai Powered Tools and Regular Updates:
New Adobe Premiere Pro comes with ai-powered features to make video editing as easy as it can get and frequent updates from adobe makes it a reliable choice for projects with tight deadlines.

Davinci Resolve vs Premiere Pro System Requirements:
| System Requirements | DaVinci Resolve | Adobe Premiere Pro |
| --- | --- | --- |
| Operating System | Windows, macOS, Linux | Windows, macOS |
| Processor | Intel Core i7 or AMD Ryzen 7 or better | Multi-core Intel processor with 64-bit support or M1 / M2 chip |
| RAM | 16GB or more | 16GB or more |
| Graphics Card | NVIDIA GeForce GTX 1060 or AMD Radeon RX 570 or better | NVIDIA GeForce GTX 1660 or AMD Radeon RX 5700 or better |
| VRAM (Graphics Memory) | 4GB or more | 4GB or more |
| Hard Drive | SSD recommended for 4K or higher resolution projects | Fast SSD |
| Screen Resolution | 1920 x 1080 display resolution | 1920 x 1080 display resolution (1920 x 1080 or higher) |
| Internet Connection | Required for software activation and updates | Required for software activation, validation of subscriptions, and access to online services |
recommended system requirements
Please note that these system requirements are subject to change with software updates.
Conclusion for DaVinci Resolve Vs Premiere Pro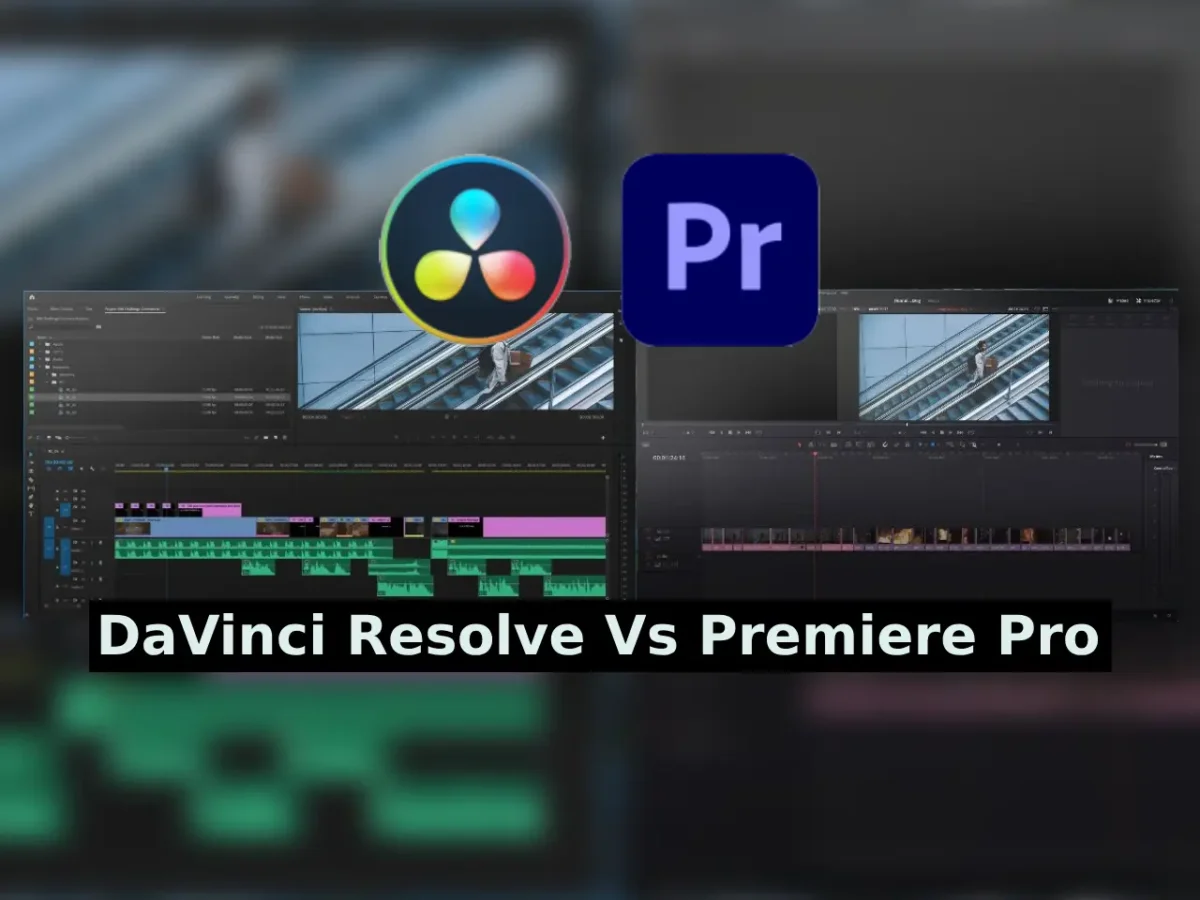 The choice between DaVinci Resolve Vs Premiere Pro depends on your specific needs and preferences. For color grading and VFX-intensive projects, DaVinci Resolve shines. If you're on a budget, the free version of Resolve is a no-brainer. Adobe Premiere Pro, on the other hand, excels in user-friendliness, collaborative workflows, and overall stability. Ultimately, both are exceptional tools, and your decision should align with your unique filmmaking journey.