A hoodie is suitable anytime for anyone. It is comfortable and convenient and looks good on all body types. With customized graphic hoodies, you can up your style game or shout out your team spirit if they are for uniforms, sports teams, or your family. Customization helps create unique graphic hoodies for men or women that make them all the more special, giving you more reasons to wear them more often. Customize design can also help them to create vintage sweatshirts!
Table of Contents
Why Canva for graphic hoodies and custom sweatshirts:
Custom hoodies in a variety of fits and styles:
Canva's hoodie is a unisex and cozy styled, with a jersey-lined adjustable hood and that too with flat drawstrings, ribbed cuffs, and waistband. It also has a 7.5 oz pouch pocket to keep your hands warm in winter season. Everybody has need of different sizes and styles hence Canva thought that it is better to serve them with variety of fits and styles.
The classic crewneck sweatshirt:
Most sweatshirts we like are what we have seen people wearing since many years. Those sweatshirts have crewneck and that's why Canva has specially kept this style in sweatshirts. Those sweatshirts are unisex, stylishly versatile, and cozy. These sweatshirts are also made with super-soft breathable fleece in a slimmer fit which is again best choice for those who are looking for slim fit sweatshirts.
Available in multiple sizes and colors:
Both graphic hoodies and custom sweatshirts come in a range of various sizes (S to 2XL) and colors like Black, Heather Gray, Charcoal Heather, and Navy Blue. Multiple colors and sizes are must for today's youth to choose from when they are customizing their hoodies and sweatshirts.

Made with long-lasting cozy material:
If you look at today's fashion or youngsters' outfits, they are lose and cozy. They want to feel comfirtable in what they wear. Canva has all sweatshirts and hoodies comfortably stylish with sturdy and breathable cotton blend material. That graphic hoodie material is made with 80% ring-spun cotton and 20% polyester.
21 Free Adobe Express Editing Tools for Creators!

Adobe Photoshop 24.7 Crack Download | Photoshop (Beta) 24.7

Ai Retouching in Photoshop Generative Fill: Enhancing Creativity and Efficiency
Features to design graphic hoodies and custom sweatshirts:
Thousands of free templates:
When you want to design your own hoodie or sweatshirt, you have lots of thoughts and ideas but you can't pen-down them on canvas. Here Canva provides plenty of template design inspiration for any occasion hence no need to start from scratch and 100% customizable.
Millions of free images, icons and graphics:
A great and wonderful design is incomplete without photos, icons, graphics and media elements. Canva gives access to their entire library of millions of photos, icons, graphics, media elements, and more which will help a lot to all designers or one who want to customize his or her own graphic hoodie or sweatshirt.

Real-time collaboration:
If you are not alone and have team who is working on hoodies or sweatshirts for group then Canva has an amazing feature which will help you designing together in real-time collaboration. In Canva, you can create, collaborate, and get every members on the same page, at the same time which is an amazing; isn't it!
Font library:
Fonts are very very crucial elements in designing graphic hoodies and custom sweatshirts. Canva allow you to upload your own or access 3,000+ free and premium fonts in their designing library. This is again a huge benefit which users can get it easily.
Free standard shipping:
Once you have designed your hoodie or sweatshirt then you can easily get its delivery as well. Users can order prints and get them delivered fast, free, and in recycled packaging which is again very thoughtful to sustain our environment. Most of e-commerces are polluting with packaging materials being plastic but Canva has thought of going eco-friendly with their recycle packaging idea.
Easy to share and export:
So many users and designers face this problem that when they are done with design and they want to share it to their friends or family, they simply can't because they can not download it or export it. But Canva helps users to spread the word with easy sharing and exporting options, including as a JPG, PNG, or PDF.
Access on multiple devices:
One more feature for convenience of users is accessibility on multiple devices. Suppose you have designed a graphic hoodie or custom sweatshirt in your desktop or laptop but you're out somewhere without your desktop. But you want to show it to your friend then you can easily login to your Canva account in your smartphone and show it to your friend.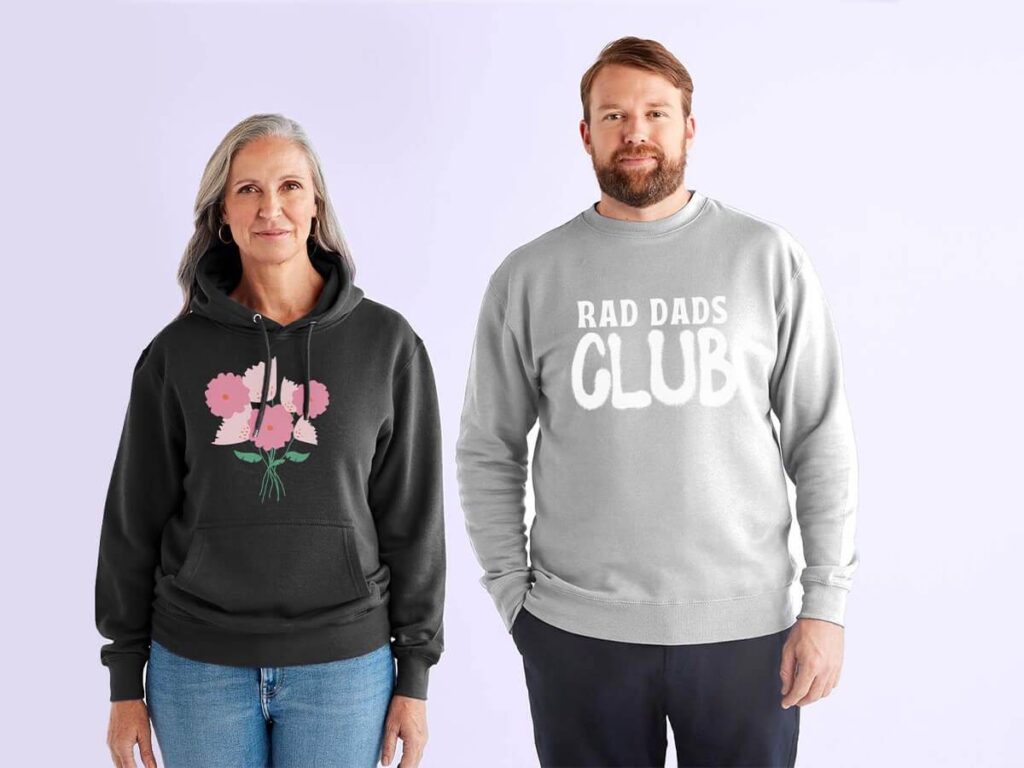 Brand Kit (Pro):
When you're designing uniforms or any merchandise for your brand then Canva provide a feature to store your logo, brand colors, and fonts to stay effortlessly on-brand. To access this feature you need to be Pro user of Canva. It's not available for trial or free account, of course!
One-click magic resize (Pro):
Once you have finished your hoodie or sweatshirt design and want to apply to multiple outfits with various sizes than this Canva's special feature 'one-click magic resize' tool saves your lots of precious time. Again this tool or feature is available to Pro user of Canva.
One-click background remover (Pro):
I have seen many people searching for such tool which can easily remove backgrounds or unwanted element from photographs but those are available in pro softwares. And users can't use those softwares. Canva provides very easy tool to remove image backgrounds which is perfect for product photos, headshots, or transparent PNGs.
On a regular basis, many people print graphic hoodies for many organizations, including schools, sports teams, community groups, and charitable organizations. They are highly charged by local printing house or merchandise shops but Canva make it easy and economical for all of them. If you still have any doubts or questions regarding this graphic hoodies and custom sweatshirts making facility then comment down or reach out to Canva.